According to Goodreads I'm 19 books ahead of schedule for my 2014 reading challenge. :-o I've read 42 books so far this year. w00t!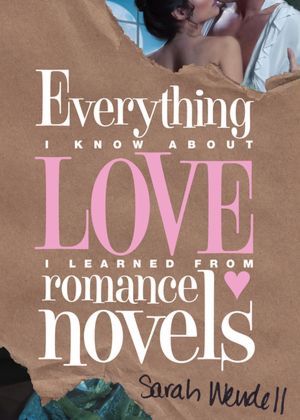 As I mentioned in my Spring Fling post, Sarah Wendell was signing books and Diana and I got our copies of
Everything I Know About Love I Learned from Romance Novels
(or EIKAL) signed. Because I am a huge Sarah Wendell fangirl, I decided to read the books on the shopping list included in EIKAL. And yay, several of them already lived on my TBR bookcase. :)
So here's where I am so far in reading the EIKAL list:
Contemporary Romance
Bet Me by Jennifer Crusie: This is usually mentioned as the go-to book for people who want to give contemporary romance a try. In general, I don't read straight contemporaries because if there are no aliens, vampires, or murderers in it then I get bored. There were many things about Bet Me that I enjoyed. This book is fun like a summer romantic comedy. The banter is very good, and I LOVED the hero encouraging the heroine to eat and worshiping her for her voluptuous body. I'm still craving bread, butter and chicken marsala. And also Krispy Kreme donuts.
Just One of the Guys by Kristan Higgins: Kristan Higgins was one of the speakers at this year's Spring Fling, and she was awesome (though some of my enjoyment of her fabulous speech was soured by the comedian who'd "entertained" before dinner.) Next time, please let Kristan Higgins do the comedy, because this book had some serious lol scenes. I have another book by her on by TBR shelf now, and I'm looking forward to it. I really identified in several ways with the heroine in Just One of the Guys (Dear World, please write more 6 feet tall heroines). She loves Lord of the Rings and comfortable shoes. Win! I was a little weirded out by how little time the heroine and hero spend together. We see her interacting more with semi-slimy rich doctor guy than we do with Trevor. There were a few problematic things for me, but otherwise it was a fun read.
Instant Attraction by Jill Shalvis: This one felt almost romantic suspense to me, because of the mountain location and the weather occasionally trying to kill people with snow. Out of the three contemporaries I read, I enjoyed this one the most. There's a lot of emotional angst going on internally with the heroine and hero, and in their relationship with each other. Random note: What is up with heroines in contemporaries rescuing stray cats? Bet Me had one too.
Paranormal Romance
Dark Needs at Night's Edge by Kresley Cole: Dark Needs is book 5 in the Immortals After Dark series, so I'm going to read my way toward it. I started with the second book, A Hunger Like No Other, because I had difficulty finding the first book. Now, I love me some paranormal romance. I read it, I write it, it's my preciousssss. The hero in A Hunger Like No Other was way too alpha for my tastes. He's sort of the stereotypical paranormal alphole who's all "You belong to me because reasons I'm not going to tell you. Deal with it. Also because reasons." My internal monologue for at least the first 100 pages was "KICK HIM IN THE NARDS! WOLFMAN'S GOT NARDS!"


But I enjoyed the heroine's development throughout the book. She starts off very passive, but by the end she's all "I WILL KILL EVERY MOTHER****** IN THE ROOM!" You go, girl. I particularly enjoyed the world building, because it's standard vampires/werewolves/etc. but with enough of a twist that I wanted to hear more.
Heaven and Earth by Nora Roberts: This is the only book on the EIKAL list that I've read before. More than once, in fact, because it's the second book of the Three Sisters Island trilogy, which is my favorite thing in the history of ever and I've reread it a few times. The first book, Dance Upon the Air, was the book that brought me back to romance reading and introduced me to Nora Roberts, who is the Original Gangsta of romance novels. Of the three, though, Heaven and Earth is my least favorite. Don't get me wrong, it's good. I just love Nell the most, and Mia second.
Historical Romance
Devil in Winter by Lisa Kleypas: You can measure how much I'm enjoying a book by the amount of times I say "DUDE!" to BFF Diana. It happened a lot during this book. Because dude, this book. THIS SERIES, PEOPLE! OMG! Devil in Winter is book 3 in the Wallflowers series, so I started with book 1 (I'm currently reading the prequel, I'll have more to say about it when I'm finished) and I read the entire series. First of all, I loved the premise of a group of wallflowers banding together to find husbands. The first book, Secrets of a Summer Night was SO GOOD. Five stars good. It's my favorite. I suspect that Devil in Winter will be BFF Diana's favorite, and I can't wait for her to read it.
Lord of Scoundrels by Loretta Chase: Just as Bet Me is often mentioned at the "start here" book for trying contemporary romance, Lord of Scoundrels is the "dude, seriously, this book" of historical romances. Having heard this for years, I had a copy living on my TBR shelf, but as I have an entire TBR bookcase it was one of my "I'll get to it eventually" books.

You guys. I was so wrong. I should've read it the moment I first had it in my hands, because Jessica Trent. I may have to devote an entire post to this book, because lo, it is a book of Biblically awesome proportions. Jessica Trent enters this book, puts her feet up and basically says,


As the book went on, in my head Jessica Trent became Nick Fury and Dain became Tony Stark. It works amazingly well. Jessica Trent/Nick Fury, all, "I'm trying to save the world here" while Lord Dain/Tony Stark is all "Woo, Imma drink all the booze and debauch all the womens!" And Jessica/Nick is all rolling eyes and heavy, put-upon sighs. Like this,


Really?

I'll stop now. But seriously, people. This book should be mandatory romance novel reading.
Okay. So that's where I am on the EIKAL list. Thoughts? :)